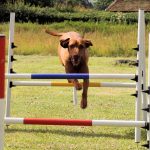 If having read the information below you have any questions or would like to arrange a convenient appointment time/date, please do contact me; 07753 609999 or email: richard@k9help.net
Obedience training, help and advice. I have been working with and training dogs since 1987.  I am a Guild of Dog Trainers, Master Trainer, as well as a fully qualified member of the Association of Pet Dog Trainers (1070) and the Animal Behaviour Training Council; three of the United Kingdom's leading positive reinforcement-based puppy and dog training organisations.
Obedience training and guidance.  How I can help you?  Using simple, straightforward praise, reward methods, based on proven research and many years of experience, I will work with you to improve the level of obedience that you currently have with your dog.
Some examples of the obedience training I can help you with. (Please note this refers to obedience training, not behavioural challenges).
How to communicate effectively with your dog – Sit, down and/or stand – Pulling on the lead – Recall -Retrieve – Drop and/or leave it – Polite greeting at home and when out – Whistle work – Distance control.
Options: I can come to you and see you and your dog at home or you can come to me, or a combination of both, see details below.
Home visit: Coming to see you at home first makes the establishment of a training program more accurate as it ensures a consistent approach when at home, as well as when out. Ideally this would be with as many of the people that have daily contact with the dog in question. I anticipate any further training will take place at your home or outside in venues local to your home and convenient to you.
How many training sessions are needed? There is no minimum or maximum number of training sessions stipulation, it is entirely up to you; the costs below are just for your information.
Cost. Lower fee reflects less travelling time.
More than 10 driving miles from SN8 3TY.

  First Visit £150.

Approximately 1 1/4 hours.

 Includes email feedback email, phone help and support. Subsequent visits, if required, £100 per hour.

Less than 10 driving miles from SN8 3TY.

 

First visit £110.

  Approximately 1 1/4 hours.Includes email feedback email, phone help and support. Subsequent visits, if required, £90 per hour.
There will be an additional cost for any journey over 80 miles from SN8.

Rescue dogs.

  If you are enquiring about help with a dog that has come to you via a registered rescue society, please do let me know, as there is a 10% discount available in these circumstances.
Payment and cancellation.  Payment is required in full before or on the day of the appointment. (Cheque, cash or bank transfer).  The full fee will be charged for any appointment cancelled with less than 48 hours' notice.
You can come to me at our training facility in Burbage, Wiltshire, SN8 3TY.
Cost. £70 per hour, Wednesday to Friday, hours 11-7 pm, daylight allowing. £90 per hour Saturday. Appointment hours available from 10.30 and up to 2 pm.